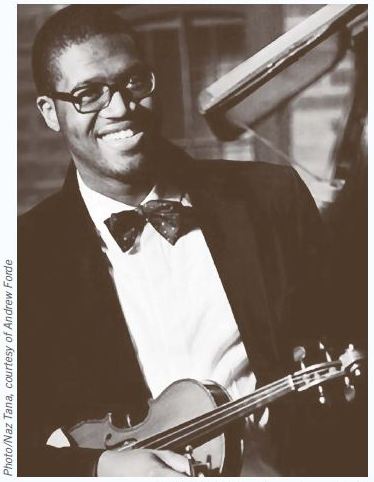 Ask 25-year-old entrepreneur Andrew Forde (MSE 1T1) what the
greatest advantage U of T Engineering gave him and you'll get a single
word answer, "Confidence."
"I was surrounded by great minds and taught by fantastic professors. After
my education there, I honestly felt like the world was open to me," says
Forde, who is the CEO of consulting company Sommerfeld Solutions and
the founder of the Forde Foundation.
"Being able to say that I was a U of T Engineering alumnus gave me the
gift of confidence. Once I knew what I wanted to do with my life, I had
the self-assurance to pursue it," he says.
Forde has chased his goals with passion, not only as a professional jazz
and classical violinist, but also as an engineer with a strong social
conscience. So much so that he was given the 2012 Harry Jerome Young
Entrepreneur Award by the Black Business and Professional Association.
Forde also credits the communication skills he learned at U of T for his
ability to lead. "Leaving U of T, I didn't have any problem with walking
into a room and explaining my ideas and thoughts to people." He got the
opportunity to practise that in Leaders of Tomorrow (LOT) – just one of
many programs at U of T Engineering that nurture students' leadership skills and the kind of business acumen that
Forde possesses. Whether it be LOT or Professional Experience Year, the Prospective Professors in Training program,
the new Engineering Business minor or The Entrepreneurship Hatchery – a new undergraduate business incubator –
these programs are crucial to personal and professional development.
What's more, Forde says the supportive environment and networking opportunities he gained at U of T Engineering
made rising through the ranks much easier. "Saying I was a U of T graduate opened up doors that otherwise would have
remained closed for me," he says.